OUWA – BMW S1000R 2021. The all-new BMW S1000R 2021 has just been officially launched globally and has surprised many Bimmers with comprehensive changes and upgrades from design to engine and technology attached to the Motobike. (Read also BMW G310R 2021 Slightly Changed Design, Improved Engine)
Pure naked bike design
In terms of appearance, you can see that the BMW S1000R 2021 is a "naked bike" version of the brother
"killer whale" BMW S1000RR with many sporty, youthful & powerful details. The all-new S1000R looks like a heavy warrior with strong tendons and muscles, giving the car a sense of dynamism, full of energy. (Read also BMW introduces the BMW CE 04 Electric Scooter Concept)

The engine operates more efficiently
The BMW S1000R 2021 is developed on the basis of the BMW S1000RR but has been slightly adjusted to provide more acceleration and more exciting performance in the middle rev range. The BMW S1000R 2021 is equipped with the same I4 engine as the S1000RR, but the maximum power has been adjusted, reaching 165 hp at 11,000 rpm and the maximum torque of 114 Nm at 9,250 rpm. (Read also BMW Develops Glider Integrated Electric Motor, Maximum Speed 300 km/h)
The rpm range of this new engine is also wider, helping the car achieve optimal traction as torque will increase steadily over a long-range. To reduce noise, vibration, and fuel consumption, especially when traveling on the road, BMW has tweaked the gears 4-5-6 so they have a longer gear ratio. In addition, it is also equipped with an engine traction control system (MSR) to minimize wheel slip after folding the accelerator or turning the throttle vigorously.
Completely new chassis system and aerodynamic design
The frame structure with the name Flex Frame helps the BMW S1000R 2021 lose another 5kg, contributing to the best car weight in the segment – 199kg. The new chassis system has a narrower design, helping to reduce the width of the car, especially the area near the driver's knee, providing a more comfortable driving posture when traveling long distances.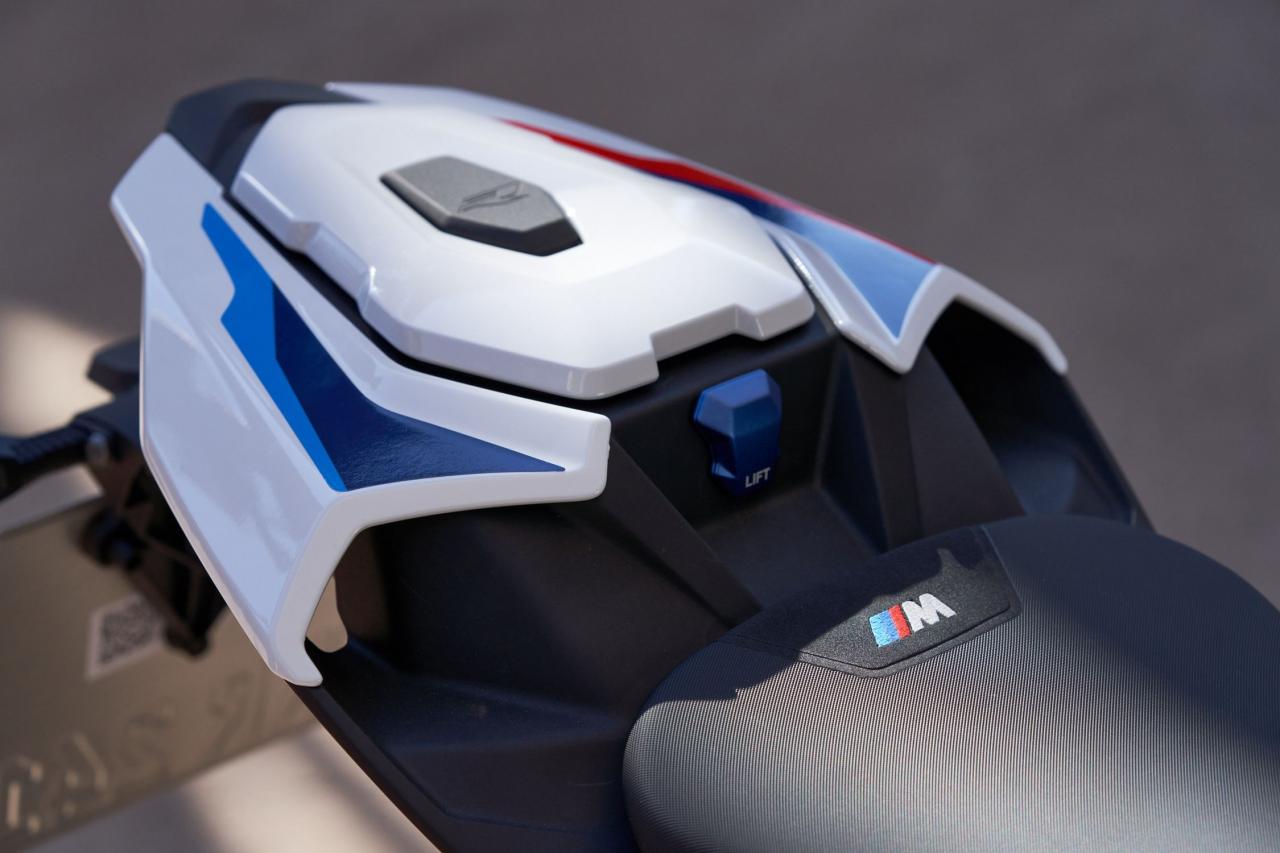 In addition, the BMW S1000R 2021 is also equipped with a completely new Full Floater Pro suspension system that provides more accurate feedback and more effective damping, while increasing traction and helping the rear wheel wear longer.
Technology and high-end amenities
The BMW S1000R 2021 is supported with 3 driving modes: Rain, Road, and Dynamic along with a DCT traction control system and a standard ABS Pro brake system. You can optionally add the "Riding Modes Pro" package with additional options such as a comprehensive Dynamic Pro self-driving mode, DBC automatic brake control system, and MSR engine traction control system.
In addition, the BMW S1000R 2021 is also equipped with high-end amenities such as a 6.6-inch TFT screen, 6-axis sensor, Hillstart Control Hillstart Control, Shift Assistant Pro, Quick Shift Assistant Pro, brand new ful-LED lighting system, optional Headlight Pro package with automatic adaptive lighting and daytime running lights, etc.